Prejuvenation is a buzzword that makes some people roll their eyes when they first hear it, but the concept it describes—getting aesthetic treatments before your skin shows significant signs of aging—is sound. And one of the best ways for people in their 20s and early 30s to keep their skin looking youthful is with laser treatment such as the HALO® laser at our Austin, TX, practice.
While laser skin rejuvenation treatments reverse visible signs of aging caused by sun damage and collagen loss, gentle laser prejuvenation procedures help keep the skin toned and smooth before aging takes a toll.
What Procedures Make Skin Look Younger?
Lasers aren't the only aesthetic treatments you can use proactively on your skin. You may have heard of "preventative BOTOX®," which is increasingly popular among women and men in their late 20s who want to ward off fine lines such as crow's feet and worry lines. RF microneedling, facials, and chemical peels are also effective prejuvenation tools we use at our med spa.
And, of course, prejuvenation starts with following a good skincare regimen every day at home. Prejuvenation can be something as simple as making sure to apply sunscreen.
How Do Laser Skin Treatments Work?
In understanding the differences between lasers, it's important to understand their various technologies. Different types of lasers are used to treat concerns such as redness, skin discoloration, wrinkles, and the skin's overall texture and tone.
There are 4 general types of lasers used for cosmetic skin care. They include:
Ablative Lasers: An ablative laser treatment removes the skin's outer layer and requires longer downtime.
Non-Ablative Lasers: These lasers bypass the skin's surface layer (epidermis) and heat the skin's middle layer (dermis).
Fractional Lasers: A pixelated laser beam divided into thousands of microscopic treatment zones that target a fraction of the skin.
Non-Fractional Lasers: A focused laser beam delivers energy to a broad treatment area.
Laser platforms combine different types of lasers to treat specific skin conditions more effectively. An ablative fractional laser, for example, is less aggressive than an ablative non-fractional laser. It's also better suited for patients who want less downtime and don't mind multiple treatment sessions to get their desired results. A non-ablative fractional laser is a gentle treatment that requires little downtime but produces less dramatic results.
What Lasers Are Good for Prejuvenation Treatments?
You can probably guess that we don't use ablative lasers for younger patients with only early signs of aging. Instead, we have a menu of highly customizable options that enable patients to maintain smooth, healthy-looking skin with little to no downtime. These treatments are especially valuable for patients who are seeing early signs of sun damage.
HALO®
The breakthrough technology used by HALO combines fractional ablative and non-ablative laser skin treatments. As a hybrid laser, HALO delivers the benefits of a fractional ablative laser without downtime. Even though it's effective at erasing years of sun damage and reducing significant wrinkles and hyperpigmentation, the HALO laser can be adjusted to address early signs of aging in multiple treatments. The procedure itself involves little discomfort because we apply a topical anesthetic to numb the skin.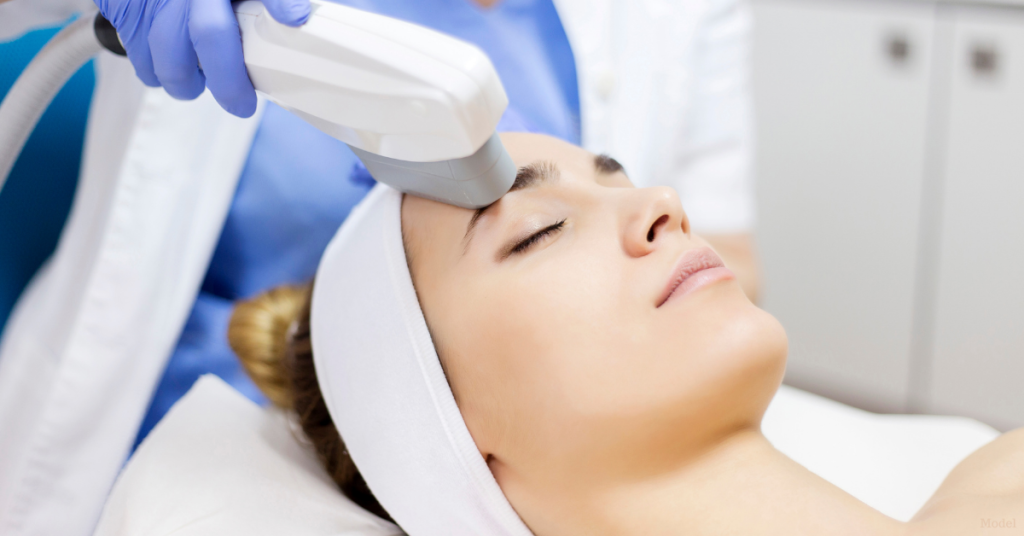 BBL® HERO™
Broadband light treatments are similar to laser procedures but use pulses of light energy instead of laser wavelengths. The BBL HERO takes intense pulsed light (IPL) technology to another level and is an ideal choice for prejuvenation patients who may notice brown spots or hyperpigmentation emerging for the first time. Some research suggests that patients who get periodic BBL treatments slow down the skin aging process. During a BBL treatment, light penetrates through the skin without harming the surface, triggering the body's natural healing process.
After your treatment, areas of pigment will temporarily darken before flaking away over the course of 3 to 5 days.
Benefits of Laser Prejuvenation
Our skin starts producing less collagen about the time we hit age 30, breaking down more of the skin-tightening protein than it generates. Collagen is an essential ingredient for having youthful-looking skin. Laser skin treatments create controlled wounds and stimulate the production of new collagen.
What Should You Expect After Laser Treatments?
Because laser prejuvenation procedures are gentler than the more aggressive treatments used to correct significant sun damage or wrinkles, downtime is minimal. Redness is common after most laser skin resurfacing treatments or BBL procedures, and patients often want to take a day for the skin to calm before returning to work.
Get An Early Start on Skin Care
It's never too soon to start caring for your skin, even if that means just applying a quality sunscreen and using professional-grade skincare products. If you're starting to notice a few brown spots or fine lines and want to discuss your options for laser prejuvenation treatments, request a consultation using the online form or call our Austin practice at (512) 244-1439.