Few experiences can match holding your infant for the first time or watching a toddler take their first steps. Parenthood is filled with joyous moments, and you wouldn't trade them for anything. For some women, though, the physical toll of pregnancy, childbirth, and breastfeeding undermines their confidence. And no amount of time spent at the gym or following a nutritious diet can shrink excess skin or lift deflated breasts.
What Is a Mommy Makeover?
Mommy Makeover is a lighthearted nickname for a major surgery that packages several procedures in a single operation. Designed to reverse the physical effects of having children, it's most often associated with post-pregnancy patients. Still, people who have never had children can also benefit from combining the body contouring and breast enhancement procedures typically included as part of a Mommy Makeover.
Even though our plastic surgeons customize each Mommy Makeover procedure based on the patient's specific needs, the operation typically includes:
Tummy tuck surgery (abdominoplasty): A tummy tuck removes excess abdominal skin and, in certain cases, tightens muscles separated during pregnancy or rapid weight gain.
Breast enhancement: This may include breast augmentation, breast lift, breast reduction, or a combination of a lift with breast implants.
Liposuction: Surgeons remove pockets of fat and contour the abdominal area and flanks.
Is a Mommy Makeover Right for You?
Determining if someone is a good candidate for a Mommy Makeover involves more than a physical assessment of the patient. For many women, the idea of getting cosmetic surgery after having children elicits mixed emotions. You might be asking yourself several questions before deciding to undergo a Mommy Makeover, especially if you still have children at home.
Am I being selfish?
Why shouldn't I be happy with the way my body looks now?
Can we afford it?
Considering your finances before getting cosmetic surgery is, of course, a legitimate part of the decision-making process. Many women considering a Mommy Makeover at our Austin, Texas, practice share their worries about "mom guilt" for investing time and money into their appearance. These are understandable and normal feelings that you should discuss with your spouse or partner, in addition to your plastic surgeon.
It's important to keep in mind that most people want to feel a sense of confidence in the way they look, and it's not selfish to want to enjoy a quality of life that contributes to your happiness.
When Is the Right Time for a Mommy Makeover?
The answer to this question is quite personal, but all women considering a Mommy Makeover should weigh several factors before researching plastic surgeons and scheduling consultations.
When did you have your child?
A woman's body needs enough time to fully heal after having a baby. This typically takes at least 6 months and may require waiting up to a year. Additionally, if you breastfeed your children, your breasts will continue changing for several months after weaning. As your body recovers, you can spend the time exercising and following a nutritious diet to ensure you're as healthy as possible when the surgery date arrives. Being as close to your desired weight as possible will improve the quality of your results.
Will you have the time and help needed during recovery?
Whether you have toddlers or school-age children, the demands on your time are significant. The initial recovery following Mommy Makeover surgery involves several physical limitations, and prescription pain medication is needed to manage discomfort. In short, you'll need someone else to care for your children. Rest is a crucial element of recovery for the first 2 or 3 weeks after the procedure. During this time, you won't be able to lift or play with your children or take care of them on your own. (You can learn more about recovering from one of the most common Mommy Makeover surgeries in our Ultimate Tummy Tuck Recovery Guide.)
Are you done having children?
If you're planning to get pregnant again, you should postpone a Mommy Makeover. Having another child will compromise your results, and a subsequent surgery may not accomplish your goals.
Choosing a Plastic Surgeon
Besides the decision to get a Mommy Makeover, selecting a plastic surgeon is the most important decision you'll make. You have several options in the Austin and Round Rock areas if you're considering a Mommy Makeover. Start by considering only surgeons who are certified by the American Board of Plastic Surgery. Talk to other members of the medical community, including your primary care physician. Read reviews posted by patients on reputable, independent websites such as RealSelf, and look at before-and-after photos.
When reviewing before-and-after pictures, look for multiple angles, consistent photo size and lighting, and patients with body types that are similar to yours.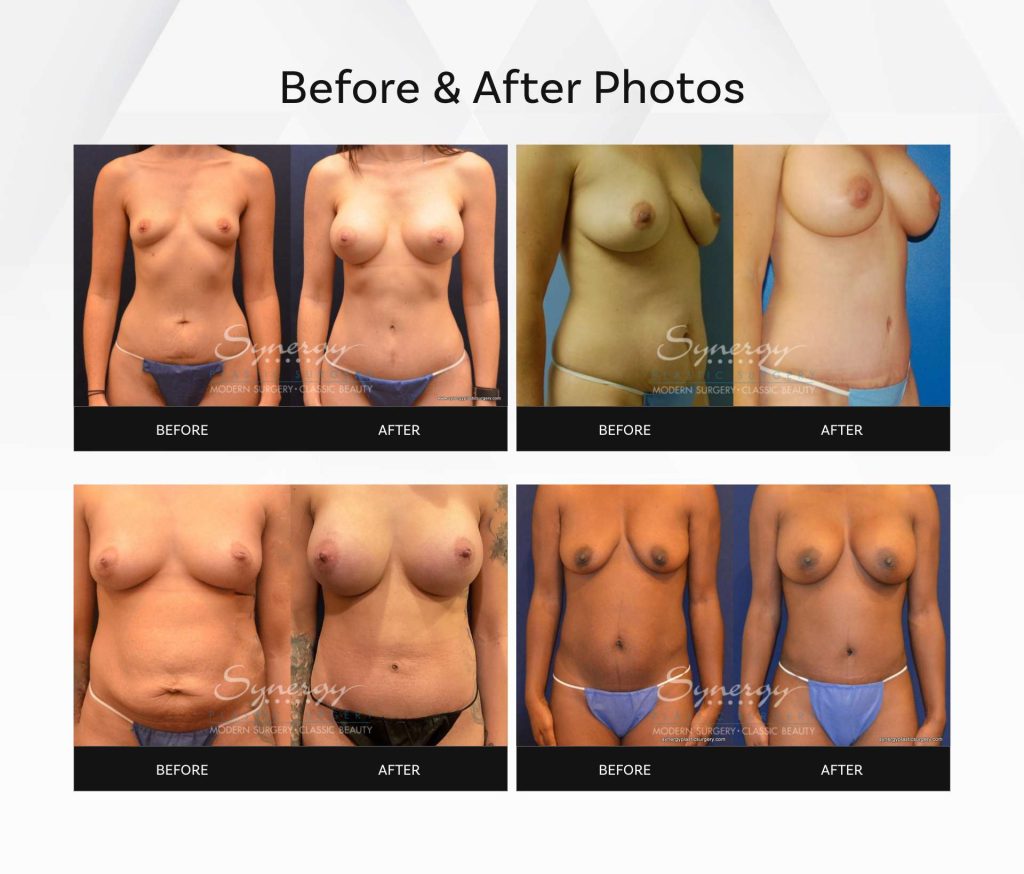 Benefits of Mommy Makeover
Combining procedures into a single operation can save you both money and time. Certain costs, such as fees for anesthesia and the use of a surgical facility, would be charged for each operation if performed separately. In a Mommy Makeover, you pay them only once. Additionally, you'll have just a single recovery—something that's especially important for people with children. The recovery time after a Mommy Makeover isn't longer than if you had a stand-alone tummy tuck.
Start With a Consultation
Undergoing cosmetic surgery is a big decision and discussing your concerns and goals with an expert is a good first step. You can request a consultation with one of our plastic surgeons by using the online form, or call us at (512) 244-1439 to schedule an appointment.