Men and women get tummy tucks, also known as abdominoplasty, to eliminate stubborn fat, tighten loose skin, and repair separated abdominal muscles. Getting a tummy tuck is a serious decision, and you may be uncertain about what to expect.
People considering tummy tuck surgery usually ask many questions, from how soon you can exercise to how long after a tummy tuck can you wear jeans. Our Austin answers these questions and more in this blog post so you can better prepare yourself for the procedure.
What To Expect During a Tummy Tuck Procedure
During your tummy tuck surgery, the plastic surgeon will make an incision very low on the abdomen that spans from hip to hip. Depending on your midsection issues and goals, your plastic surgeon will remove excess skin and repair abdominal muscles to create a flatter, firmer abdomen. You may also choose to remove stubborn fat from the love handles and other areas with liposuction to define your waist further.
You will be put under general anesthesia before the procedure so you don't feel anything during surgery, and your plastic surgeon will prescribe pain medications to handle any discomfort during recovery.
It's important to choose a well-qualified and experienced board-certified plastic surgeon who puts your safety first and understands your goals so you can have a positive mindset when going into the procedure.
What Should I Expect During My Tummy Tuck Recovery?
Your tummy tuck recovery period can be significant. The average recovery for a tummy tuck can be around 2 to 3 weeks. You should be prepared for moderate pain during the first few days, and you will also experience fatigue, soreness, and swelling in your midsection.
You should expect to take time off work and organize help for household chores and childcare. According to The Aesthetic Society, you should avoid strenuous physical activity for 4 to 6 weeks after a tummy tuck.
Do I Need To Be At a Stable Weight Before My Tummy Tuck?
Being in good health and at a stable weight is important when going into any cosmetic surgery. It's especially important for a tummy tuck because being at a stable weight will help you maintain your newly contoured midsection. Constantly gaining and losing weight after the procedure can stretch your abdominal tissue and create a need for a revision procedure.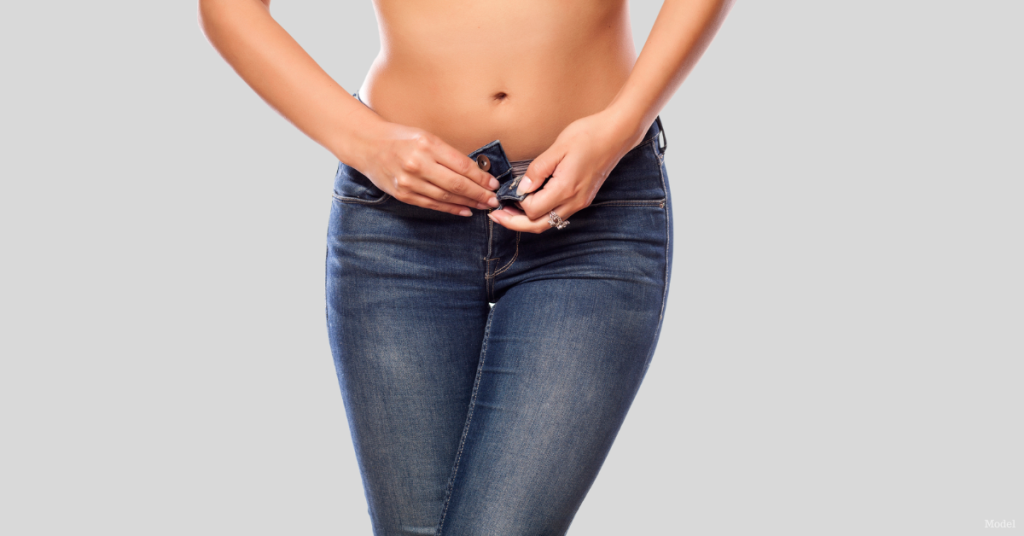 When Can I Start Wearing Jeans After a Tummy Tuck?
You can usually slip into your favorite jeans around 3 to 4 weeks after your tummy tuck. It's reasonable to be excited to wear your "normal" clothing and show off your new, flat midsection. However, you should give your incisions time to heal and allow the swelling to go down before dressing in fitted or tight clothing.
The first few weeks after the procedure, you will need to wear compression garments that support your midsection and minimize swelling. It's best to wear loose shirts, dresses, and pants over the compression garments for your comfort.
When Can I Exercise After a Tummy Tuck?
You should stick to short periods of light walking the first week after your tummy tuck (think walking to the kitchen or bathroom every few hours). Exercise plays a big role in your recovery process, but you should not rush into it, or it will interfere with the healing process. After week 2, you can get back to mild activities such as walking and non-strenuous cycling.
It will take around 4 to 6 weeks for you to resume your usual workout routine. Make sure to follow your plastic surgeon's recommendations about when to start exercising and engaging in other strenuous activities.
How Soon Can I Start Driving After a Tummy Tuck?
While you are taking prescription pain medication, driving is off-limits. After a few weeks of recovery, you can ease into driving, but remember that driving involves keeping your body in a rigid position. There is no standard time to resume driving after a tummy tuck, but you should consider if you can sit comfortably in the car, open the door, look over your shoulder, and turn the wheel before you start driving.
Make sure to have someone drive you home after the procedure and provide transportation for a few days after your surgery.
Can I Get Pregnant After a Tummy Tuck?
Having a tummy tuck will not compromise your ability to get pregnant, and you should be able to do so safely in most cases. However, getting pregnant will affect your tummy tuck results, as your skin will stretch to accommodate the baby. It's better to wait until after you have finished having children before you have a tummy tuck.
If you know you want to have children after your tummy tuck, it's better to opt for a mini tummy tuck that doesn't focus as much on repairing abdominal muscles or liposuction to eliminate excess fat. Read more about handling a pregnancy after a tummy tuck in this related blog post.
There will be some uncertainty as well as a lot to look forward to after your tummy tuck. Make sure to choose a seasoned, board-certified plastic surgeon for a seamless tummy tuck experience. You can request a consultation at our Austin, TX, practice or call us at (512) 244-1439 to schedule an appointment with our experienced, caring surgical team.