You are enjoying your new bundle of joy and living mom life to the fullest—if only it weren't for the leftover belly pooch and deflated breasts. A mommy makeover could be the answer, tightening and strengthening certain areas of your post-pregnancy body so you can feel confident and vibrant.
The beauty of the mommy makeover is its versatility and efficiency. You and your plastic surgeon can choose the surgeries that will address your specific areas of concern, and they're often performed in a single procedure. This optimizes your budget and recovery time.
When planning their mommy makeovers, most women choose breast augmentation with a lift to restore their breasts' volume and position as well as liposuction and a tummy tuck to remove belly fat, strengthen abdominal muscles, and tighten skin. We are here to guide you through the mommy makeover process, and you can read more about the procedure in our related blog post.
Which Areas Can Be Improved With a Mommy Makeover?
Sometimes, pictures are the best way to convey how a mommy makeover can transform different areas of your body.
Real Synergy Plastic Surgery Patient: Case 150
This beautiful mom wanted to tighten her lower midsection and get rid of excess skin with a tummy tuck. She didn't like how her midsection looked under fitted clothing and in her swimsuit. After her mommy makeover, which also included breast implants, she is thrilled to get back into her pre-pregnancy clothing and show off her new, toned midsection.
Real Synergy Plastic Surgery Patient: Case 251
This mom noticed sagging and loss of volume in her breasts after welcoming her new baby. Her mommy makeover included a breast augmentation and breast lift for fuller and lifted breasts. She is now able to wear fun, fitted tops to show off her beautiful silhouette.
Real Synergy Plastic Surgery Patient: Case 96
This mom was thrilled with her new baby but not thrilled with her post-pregnancy body! She opted for a breast augmentation to reshape and make her breasts fuller. She also chose a tummy tuck to tighten weakened muscles and remove excess skin. She can now enjoy her contoured midsection, perky breasts, and increased confidence.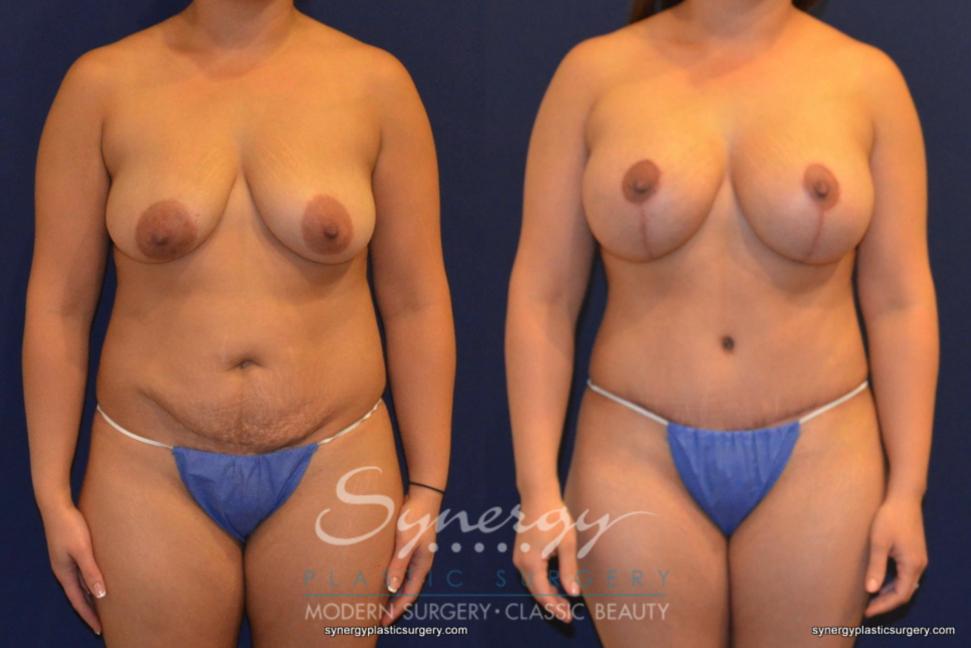 Real Synergy Plastic Surgery Patient: Case 393
This lovely mom was unhappy with her breast changes after welcoming her new baby. Her breasts were sagging due to pregnancy and breastfeeding, and she didn't feel confident in her body. She decided on a breast lift to lift her breasts and give them more shape. She was thrilled with the results and couldn't wait to enjoy her new body.
Real Synergy Plastic Surgery Patient: Case 420
Our next patient is a mom to several children and was unhappy with the changes to her midsection after multiple pregnancies. She opted for a full tummy tuck to remove the excess skin and tone and contour her midsection. Notice the improvement to her bellybutton as well. She also decided on breast augmentation with saline implants to add volume and shape to her breasts. She was ecstatic with her mommy makeover results!
A mommy makeover is a great way to celebrate your body for all it has achieved. If you want to see even more amazing mommy makeover results, check out our before and after gallery. If you are ready for your own mommy makeover to improve your body confidence, request a consultation or call us at (512) 244-1439 to schedule an appointment.